I am happy to announce that the Skyfall head is now available to order.
Only a limited amount of heads will be released this time, the order period starts now and ends July 31, or when the heads are sold out, whichever is first.
To order, simply place an e-mail to dolly_dark@hotmail.com and tell the amount and skin color you wish to purchase and provide name, address and your Paypal information.
You will then receive a confirmation mail and a Paypal invoice. Pay the amount within 5 days to confirm your order. Your order is not complete until we have received the payment.
The head is available in a Normal Skin that is intended to match Volks Normal and in White Skin.
The cost of one head is 85 euro
Shipping cost will be 13 euro to most countries (more info about shipping at the end of the post*).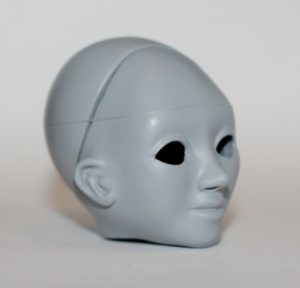 Skyfall takes 12mm or 14mm eyes and wigs in size 6-7. She fits S-hooks up to 13mm wide.
*This shipping option has tracking available to the following countries:
Argentina, Belgium, Denmark, El Salvador, Finland, France, Gibraltar, Hong Kong, Ireland, Iceland, Japan, Canada, Croatia, Latvia, Luxemburg, Malta, Netherlands, New Zeeland, Poland, Portugal, Russia, Saudi Arabia, Singapore, Slovakia, Slovenia, Thailand, Czech Republic, Trinidad and Tobago, Germany, Hungary, Belarus, Austria.
If your country is not on the list and you want tracking, let me know in your order e-mail and I'll get back to you with what other options are available. Please be aware that the shipping cost will likely be a bit higher.