I have tried the prototype head on the bodies I have available.
Since this is still a prototype, these pictures don't say anything about resin matches, but they can be useful to see size and proportions.
The head should fit nicely on any body with similar measurements. They all have a neck circumference of between 7 and 7,5 cm. The head has a decent range of movement on all of these bodies.
Doll Leaves Teenage Dream boy body




Luts Kid Delf Romantic body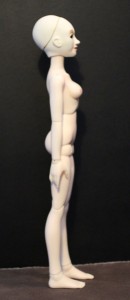 Lati Blue girl body